On March 29th, 2017 Kelly presented her first full runway collection at Kansas City Fashion Week and then, on October 5, 2017 Kelly took part in the the Phoenix Fashion Week Community Night Runway Show.




At Charleston Fashion Week 2018, March 13th - 17th, Kelly was a finalist in their Emerging Designer Competition
VIDEO EDITORIALS
CHARLESTON FASHION WEEK RUNWAY SHOW VIDEO 2018
PHOENIX FASHION WEEK COMMUNITY NIGHT RUNWAY SHOW 2017
LOVERLY GRAY BLOG VIDEO ON CHARLESTON FASHION WEEK
(They comment on Kelly's runway show at 9:30 in to the video)
TELEVISION EDITORIALS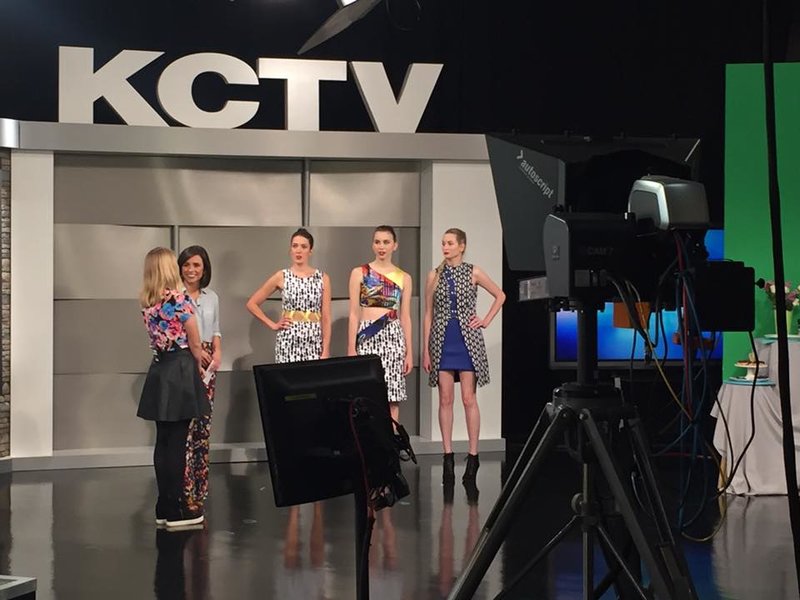 EDITORIALS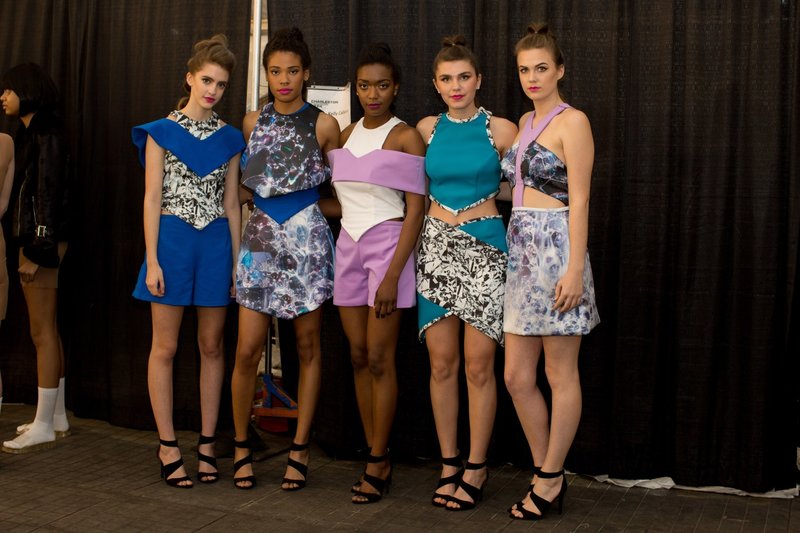 "12-year-old design prodigy Kelly Callaway took us into the fashion future with her collection of modern dresses and separates. The Star Trek inspired pieces popped with color and geometric shapes. With no formal training other than her mother teaching her, Kelly has been designing and sewing since the age of 7 in her hometown of Scottsdale, AZ. If she is capable of this at 12 years old, I can only imagine what she will accomplish in her teen years. Watch out Project Runway Junior!"
"CHARLESTON FASHION WEEK NIGHT THREE: Runway Show Recap - Thursday, March 15th
KELLY CALLAWAY
At eight years old, Kelly Callaway started to become interested in fashion. She learned how to design, she sketched, she learned how to become a patternmaker. The interest grew.
At 11 years old she showed in Phoenix Fashion Week and participated in Kansas City Fashion Week.
Today, at 13 years old, she is an emerging designer at Charleston Fashion Week. Callaway has it all planned out from here: go on Project Runway, attend school to learn more about business and fashion, and expand her brand.
Callaway's designs were colorful, fun, bright, lively, and modern. She focused on using cool tones, limiting her palette to mostly blue, purple, and white. Close fitting pieces balanced the shape of her voluminous outer pieces.
Her cohesive collection hit all the right notes, even brining a nod to the 80s trends that have been resurfacing this season."


"CHARLESTON FASHION WEEK FASHION
–Kelly Callaway – This designer is 12 years old. 12! What was I doing at 12? I don't even remember but it certainly wasn't showing my beautiful collection at fashion weeks."
"Chic Meets Southern: Charleston Fashion Week 2018
Up next was another impressive designer, commended for her talents and for only being 13-years-old. Kelley Callaway's collection definitely exuded her youthful spirit but also her sophisticated eye for design. The garments boasted bright patterns and funky silhouettes that could only be thought up by one of the freshest minds in fashion."
Meet Scottsdale's Own 12-Year-Old Fashion Protégé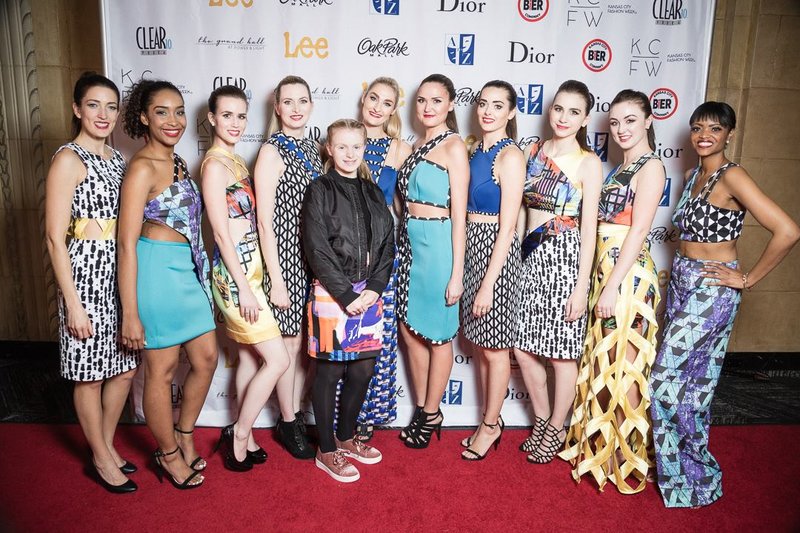 Has anyone has ever wondered if a dream can be achieved by the age of 12? Well, according to Scottsdale native Kelly Callaway, the answer is yes. On the surface, Callaway seems like your typical 12-year-old; however, after getting to know her a little more, it is apparent that this mature young woman is destined for high success. She uses her passion and love of creative energy to make show-stopping pieces that will have you doing a double take. The incorporation of color and pattern bring the fun of a carefree tween and her perfectly tailored lines illustrate her sophistication.
Callaway will be lighting up the runway with her bold, brave and beautiful designs this March at the Lexus Charleston Fashion Week (CFW). By already having previous fashion week experience, she is on the road to victory in the competition CFW has for emerging designers. CFW is one of the leading fashion weeks in the U.S. and Callaway is one of only 12 designers chosen from all over the country competing for $40,000.
So take a moment to read on about her dreams and successes. You never know, she might inspire you to continue pursuing your own.
AFM: Tell me something about yourself people usually do not know.
Kelly Callaway: I am very fast at memorizing song lyrics and know a lot of songs from the 80's to today.
AFM: Do you plan on studying design in the future/college?
KC: I enjoy fashion design, interior design, and urban planning (basically anything creative) very much; however, my interest might change from now until college. There are so many things I am interested in doing.
AFM: What are your hobbies outside of fashion design?
KC: I play club soccer, so that takes up a lot of my time. I also love learning and reading more about interior design and urban planning since I am so interested in it.
AFM: What was your feeling when you saw your designs go down a runway the first time?
KC: When I was 11, I showed my first mini collection at Phoenix Fashion Week's Community Night Runway Show (in 2016). Seeing my designs walk down the runway was surreal. I was so excited to have people see my designs for the first time. In March of 2017, I showed a full 10-piece collection at Kansas City Fashion Week and was on the runway again at Phoenix Fashion Week later that year as part of their Community Night Runway Show once again.
AFM: What are you working on right now?
KC: I am working on my collection for the Fall 2018 runway show at Charleston Fashion Week being presented on March 15. I was chosen as one of 12 semifinalists in their Emerging Designer Competition.
AFM: Do you ever design/make clothes for your friends?
KC: No, I usually design for women who are willing to take a chance on wearing bold colors and patterns.
AFM: What would you like to achieve by the end of this year?
KC: By the end of 2018 I hope to be a more recognized designer and have my brand out in stores so I can sell to a larger audience.
AFM: What inspires you?
KC: I find inspiration in the lines and architecture of shapes and flattering silhouettes.
AFM: Who do you look up to?
KC: I look up to my mom because she taught me how to sew and pattern-make. She is the person who really introduced me to the whole world of design.
AFM: Who's your favorite artist/designer?
KC: I don't spend a lot of time looking at recent fashion and designers but anyone who has fun colors and patterns, and clean, modern garments is who I would look up to.
AFM: Walk me through the process of creating a piece.
KC: First, I select and finalize my design sketch. Then, I pattern-make each garment by draping on a dress form. My pattern is made in muslin and then is cut out in the actual fabric. When everything is ready, the garment is sewed. After it is done being sewn, I check the design on the dress form to make sure it looks OK and, if it does, I then fit the garment to a model or client.
AFM: What is your dream?
KC: My dream is to be very successful in my field once I graduate from college, move to a big city and find an amazing job. I would also love to appear on Project Runway Junior when I am old enough!
Stitching together the 12th Charleston Fashion Week
Kelly Callaway
,
showcasing Thursday, Mar. 15, third designer

First things first– Callaway is
twelve-years-old
. (
Yes mom, a 12-year-old is more successful + better dressed than I am in my thirties.)
A seventh-grader from Scottsdale, AZ, Callaway has already showcased her
eponymous collection
in
three fashion weeks across the country
. Her collections focus on the architecture behind the design, narrowing in on clean cuts + asymmetrical lines.
#KCFW F/W'17 Wednesday Night Runway Show
Kelly Callaway Designs
I am so in love with this girl. Kelly Callaway, of Kelly Callaway Designs, is 11-YEARS-OLD!!! I got to meet her at the
Bubbly and Bowties
event this past Tuesday evening and although she is so young, she carries herself like a mature woman. Her collection was absolutely stunning and well-tailored and put-together. There was mixing of geometric patterns and structure. I can't wait to see where this talented lady goes.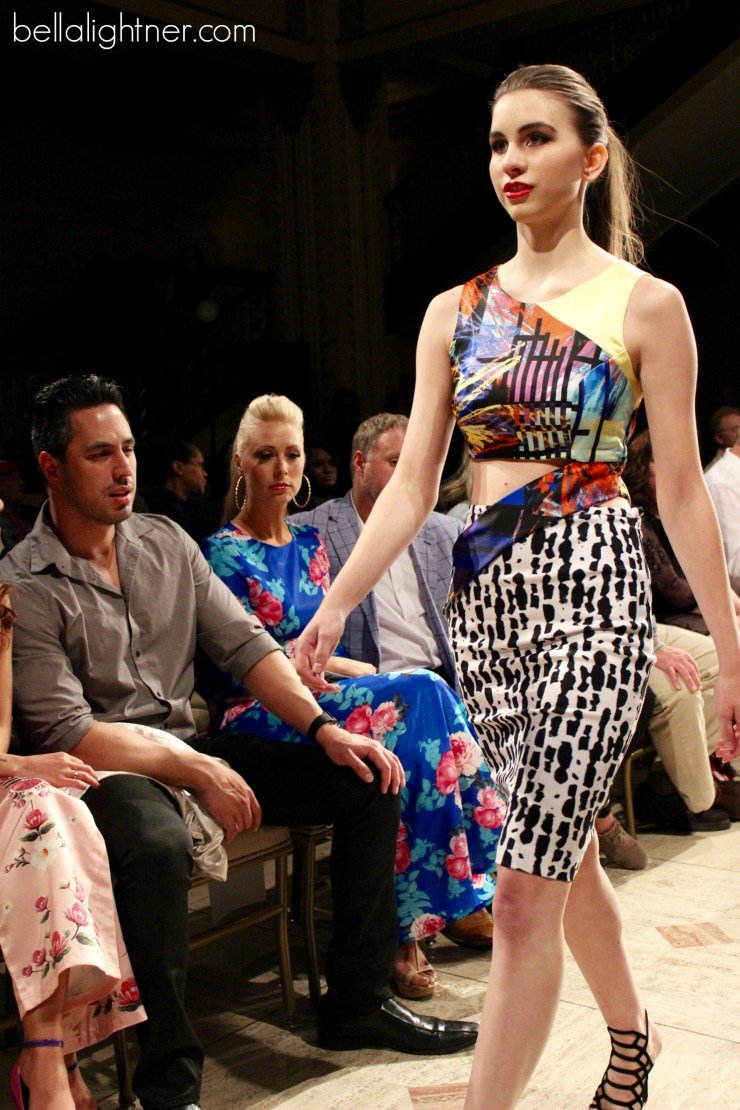 Kansas City Fashion Week F/W 2017 - Wednesday Night Recap
Kelly Callaway Designs
I was seriously blown away by this next collection from Kelly Callaway Designs… Why? Because Kelly is only 11 years old!!! Yep…just 2 years older than my oldest son. Craziness. Her designs were very bright and vibrant and many were asymmetrical, which I've always loved. She mostly showed dresses and skirts, but there were some looks with pants, too. She got a standing ovation during her finale and it gave me goosebumps! I can't wait to see what else she does in the future!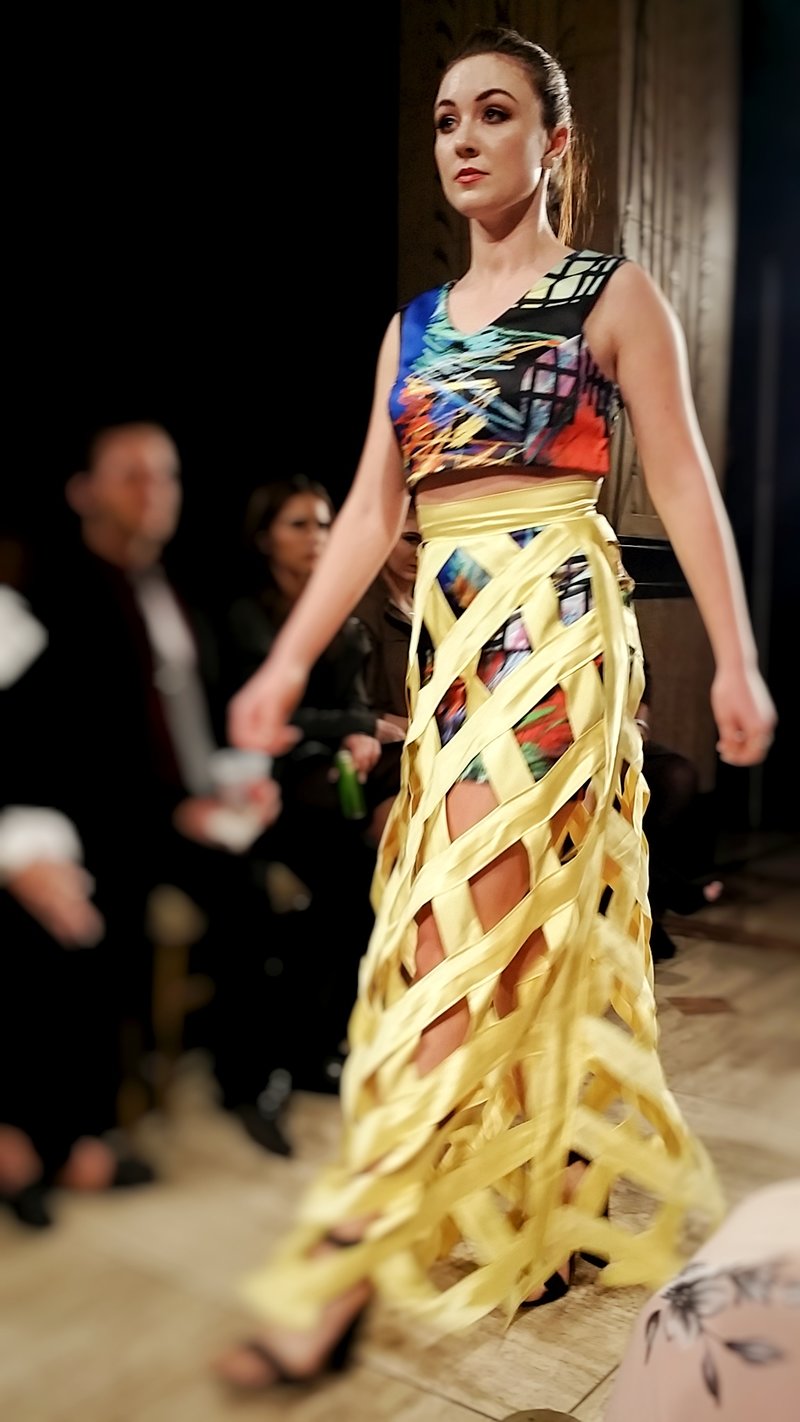 FW '17 Wednesday Night Runway
Kelly Callaway Designs
At just 11 years old, Kelly Callaway is living her dreams of being a fashion designer! She has shown her collections previously at Phoenix Fashion Week and now debuting for the first time in Kansas City! Her looks are vibrant and fun featuring amazing craftsmanship with beautiful colors and patterns. Kelly's vision for bold and modern designs were a crowd favorite, earning her a standing ovation!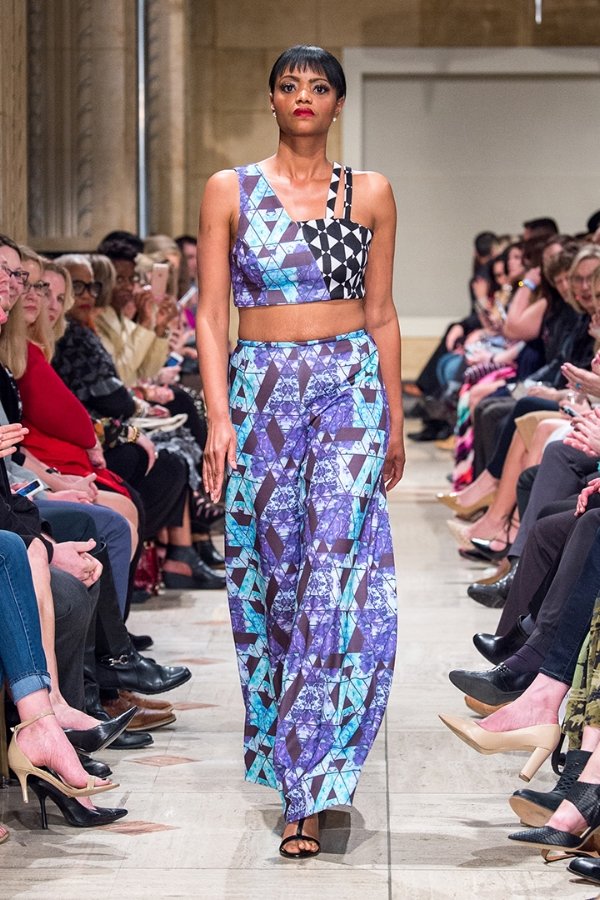 KC Fashion Week
Kelly Callaway Designs
The youngest designers were astonishingly good. One was eleven (yep) and one was only sixteen! Both ladies had well constructed and wearable designs. I can't wait to see what they do in the future and hope they return to KCFW!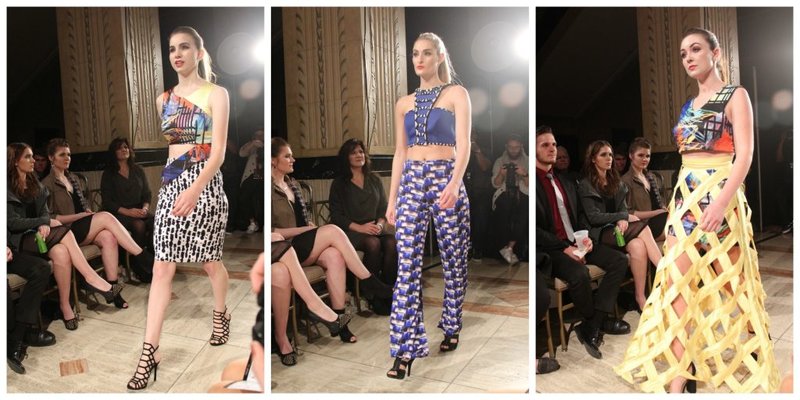 Kansas City Fashion Week F/W '17: Part 1
Kelly Callaway Designs
You think those last designers were accomplished for how young they are? (Well they are; not undercutting that!) But, this next designer of
Kelly Callaway Designs
, is eleven years old. Yes, ELEVEN. Her craftsmanship and intricate designs blew me away. Her goal is to be on Project Runway Junior, but she's too young to audition. You better believe I'll be tuning in when she gets on that show!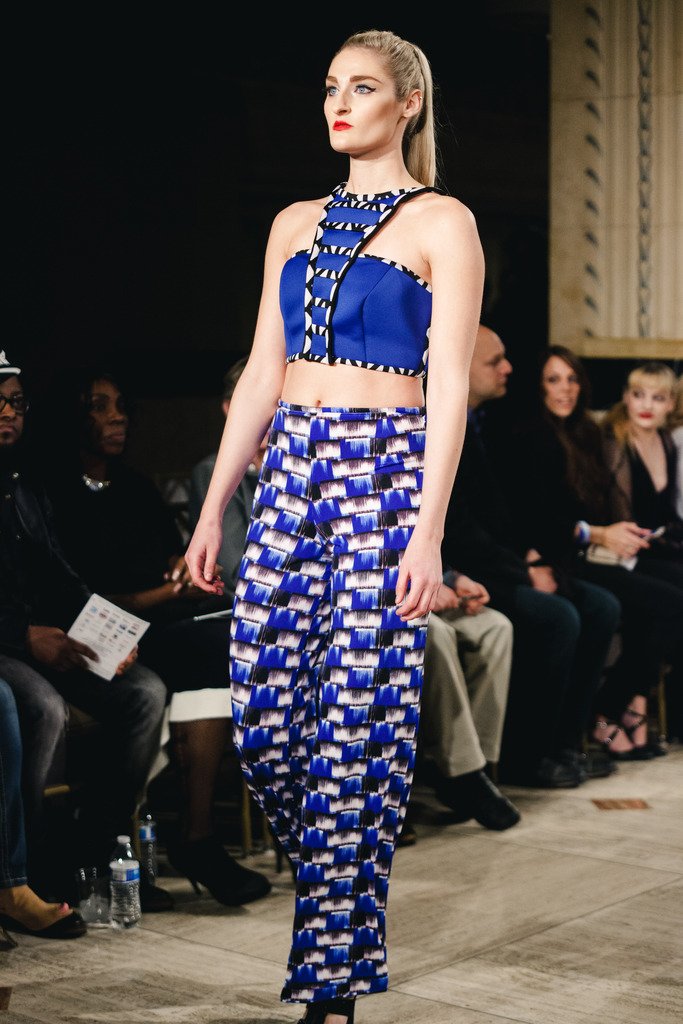 PRINT EDITORIALS


'Project Runway' star and 12-year-old among Charleston Fashion Week designers


At the age of 12, Kelly Callaway has arguably done more than most post-college graduates. The seventh grader on the club soccer team has a self-titled online design line and has had her collections featured in three fashion weeks already. Charleston Fashion Week will be her latest endeavor.
"I was first introduced to fashion when I was about 8 years old," says Callaway, who's from Arizona. "I was a very artistic person. I would paint and draw and took a lot of art classes. I had books filled with sketches. Then I wanted to know how to create them."
Between full days of school and soccer matches during the evenings, Callaway made time to fit in design.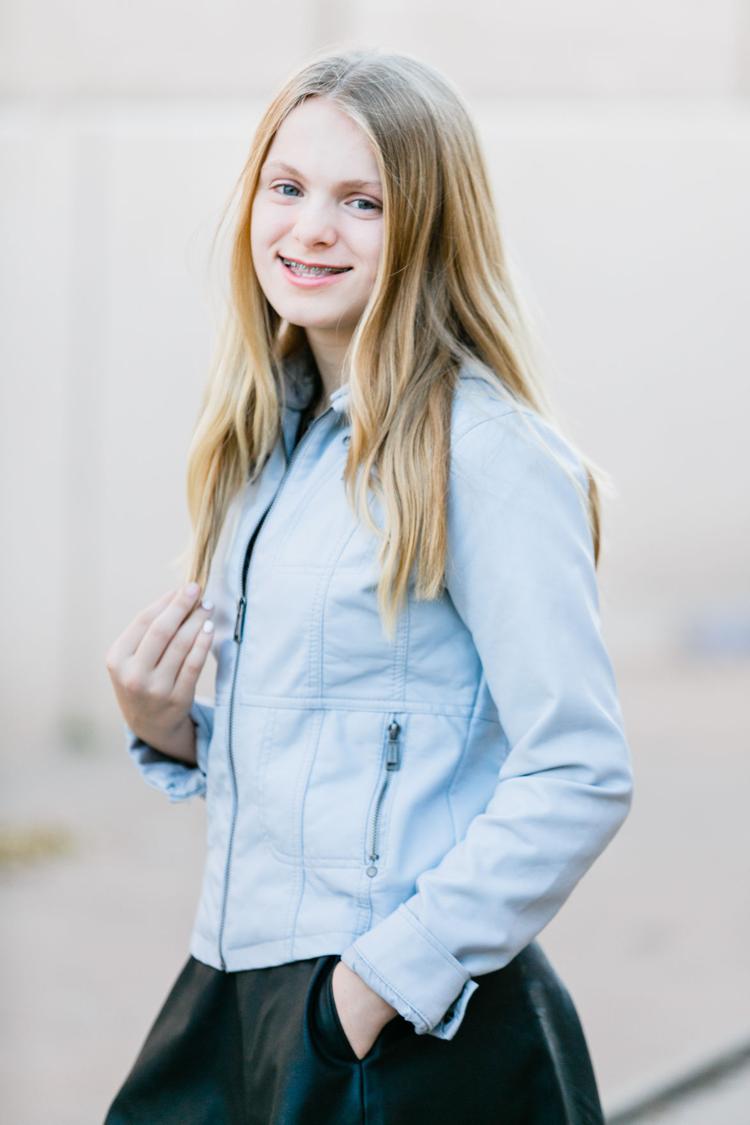 "I'm really interested in the architectural side of fashion, so I like a lot of the lines and pattern-making," she says. "I like crazy patterns but also the silhouette side of it — clean cut, asymmetrical."
Her previous collections have been in two Phoenix Fashion Weeks and one Kansas City Fashion Week and have focused on bright patterns along with architectural configurations. She'll be doing a bit of the same, though she's incorporating more solid colors this time around.
"My collection is going to be a combination of hard, outer pieces on top of close-fitting garments," says Callaway. "There will be fun patterns and prints; it's colorful and whimsical."
Following in Freeman's footsteps, Callaway hopes to make it onto "Project Runway." However, she can't apply to "Project Runway Jr." until she is 13 or 14, according to show guidelines. That hasn't stopped her from pursuing her dreams.
"You're never too young to start doing something that you love and making a living out of it," she says.


Young Scottsdale fashion designer to showcase work at Kansas City Fashion Week
Scottsdale native Kelly Callaway, 11, is an aspiring fashion designer who made her fashion debut this past October on the runway at Phoenix Fashion Week.
As part of PHXFW's Community Night runway show, Ms. Callaway presented a two-look mini-collection that introduced her design talent to local fashionistas, according to a press release.
She received positive press and feedback on her designs that news of her debut reached as far as Kansas City, Mo. Kansas City Fashion Week reached out to her inviting her to present a full runway collection on March 29 at its Fashion Week show, a release states.
Ms. Callaway will be one of eight designer shows featured for that evening. The show will be at The Grand Hall at Power & Light in Kansas City, Mo. from 7:30-10 p.m.
At a very early age, Ms. Callaway developed the skill of expressing herself visually through art. She first developed that expression through painting, and then through fashion design.
Ms. Callaway says her mentor is her mother, who studied Fashion Design at The Fashion Institute of Technology in New York City. It is through her mother's training Ms. Callaway learned how to transform her sketches into actual, physical garments, through draping, patternmaking and sewing.
She designs bold, modern, colorful silhouettes that are made for a strong and independent woman who is willing to take risks. She says she is inspired by bold prints and color that are futuristic and modern. She will be presenting her Fall/Winter 2017 collection of 10 looks in March on the runways at KCFW.
Ms. Callaway currently sells her art and designs on her website, kellycallaway.com. It is her goal the premiere of this collection will garner enough interest to help her launch her fashion business.